How to Prepare for Federally-Financed Infrastructure Projects

For companies looking to participate in the expanding marketplace for federal construction contracts, the process for registering, finding, and winning federal projects can seem a bit daunting. In reality, the system is run by a network of simple databases. Here's what you need to do to get started.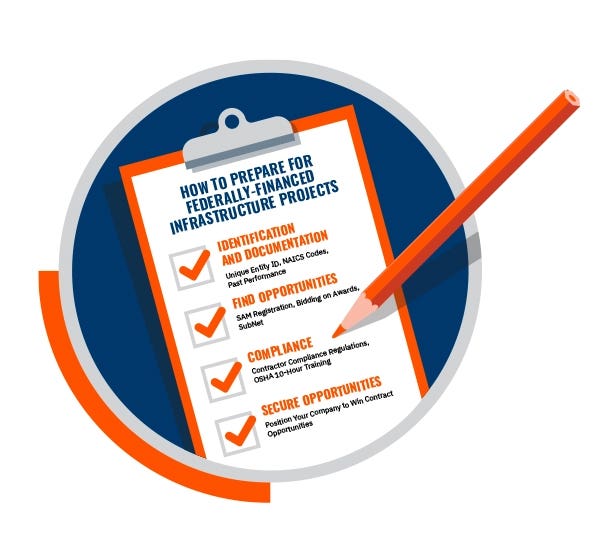 UNIQUE ENTITY ID (SAM) – FORMALLY KNOWN AS DUNS NUMBER
As of April 4, 2022 the unique entity identifier used across the federal government has changed from the DUNS Number to the Unique Entity ID (generated by SAM.gov). Existing registered entities can find their Unique Entity ID by following the steps here. New entities can get their Unique Entity ID at SAM.gov and, if required, complete an entity registration. All businesses seeking federal contracts need one these numbers.
NAICS CODES
A NAICS code is required information businesses need to supply when registering your business as eligible for federal contracts. It segments your company into a known industry based on the nature of your business - what you do or sell. Find your North American Industry Classification System (NAICS) code here.
SAM REGISTRATION
Register with the System for Awards Management (SAM). Government agencies are required to use SAM to advertise all contracts over $25,000. By creating an account and profile with SAM, you are entering your company into the largest searchable database of federal contractors, used by nearly all federal agencies. Mostly, the process is simple, straightforward, and you walk through it step-by-step. Also, it is free and 100% online. SAM is also a search engine for contract opportunities; a simple query here will return individual listings for thousands of open federal construction contracts at any given time.
PAST PERFORMANCE
Prepare and document a record of "past performance." For prospective contractors without a record of past performance on federal contracts, you'll be asked to provide information about the performance history of your business. This record will address questions of quality, cost control, reliability, etc. By way of example, see the General Service Administration's (GSA) questionnaire. Contractor performance is tracked through a system called "CPARS" - Contractor Performance Assessment Reports. It is an online system for federal agencies used to manage contractor performance reporting. Overtime, CPARS records and establishes a rating for contractors with multiple contract awards. If you are offering on a federal contract for the first time, you will be asked by the awarding agency for information to establish and evaluate your performance.
BIDDING ON AWARDS
After registering with SAM, you may find that federal agencies are contacting you with interest in receiving your bid for their projects. This is because SAM is a database used by agencies to find and solicit offers for construction awards.
To find and bid on a contract, you'll use the SAM portal and search tools to identify opportunities that are a fit with your team's capabilities. When you find a construction contracting opportunity that looks promising, you'll notice that each potential award lists the contact information of the administrating person within the corresponding agency. Typically, you will have to reach out to the awarding agency to receive the Request for Proposal (RFP) outlining the project in greater detail and process for bidding on the specific project.
In short, you need to be actively searching for contracting opportunities, responding to RFPs, and communicating directly with agencies.
SUBCONTRACTING
You can also start the search for subcontracting opportunities. SubNet is a database of subcontracts posted by "prime" contractors looking for small business subcontractors. That's just one of several databases tracking subcontracting work, operated by different federal agencies.
CONTRACTOR COMPLIANCE REGULATIONS
The Federal Acquisition Regulation (FAR) is the primary regulation for use by all executive agencies in their acquisition of supplies and services with appropriated funds. For the federal government, FAR provides a policy basis for conducting business – principles, rules, and guidelines. For any potential contractor, it is important to understand how FAR influences the procurement process and what it asks of agencies and employers.
FAR covers occupational safety and health expectations for contactors, and compliance with construction-specific (29 CFR Part 1926) safety standards. It also covers the minimum requirements contractors must demonstrate to be deemed qualified, such as the financial ability to perform the contract, the necessary construction equipment and facilities, and safety programs. You'll also find payment protection requirements that must be provided to federal contracting officers to demonstrate the contractor's ability to satisfy the government in the event of poor contract performance.
OSHA 10-HOUR TRAINING FOR CONSTRUCTION
Federal government construction sites generally require workers to have at least an OSHA 10-Hour Construction card. And that's in addition to general compliance with OSHA's construction safety standard 1926.21 for safety training and education.
OSHA's Outreach Training Program for 10-Hour Construction has specific training requirements created to provide a well-rounded safety education on the most common hazards associated with construction work. By providing workers with OSHA 10-Hour safety training, employers benefit from workforce readiness; the ability to demonstrate safety compliance, across multiple job sites or states, supports a contractor's competitiveness for federal construction contacts and subcontracts. Other team members may be required to attend OSHA 30-Hour Construction safety training based on the amount of workers and roles they perform (e.g. primary and alternate Site Safety and Health Officers (SSHOs) and other Safety Points of Contacts).
WINNING CONSTRUCTION AWARDS
There is a lot of work involved to prepare your business for federal construction award competition. After all that work is done, what can bidders do to best position themselves to win contract opportunities?
Filter your SAM searches for opportunities within your NAICS code range. For example, if you primarily specialize in excavation, your NAICS code is 238910 - "Site Preparation Contractors." You can search SAM for opportunities that align with your NAICS code, to narrow your focus on contract opportunities where your operation will be the most competitive.
From there, pay close attention to the technical requirements of any contract opportunity. These details, typically listed within the award description, will help you determine if your business has the equipment, resources, or personnel, to complete the project in a satisfying manner and bid profitably. Evaluating the opportunity based on the technical requirements will help you further identify which awards to actively pursue and which to avoid. You can reach out to the award representative directly to request more information and ask clarifying questions.
Also, understand any special circumstances and selection criteria used for evaluating the competitiveness of offers. For example, you may notice that a contract opportunity is "100% Service-Disabled Veteran-Owned Small Business set-aside." If your organization doesn't meet that criteria, you won't have much of a chance to win that award. Additionally, Solicitations will typically state the relationship between the "Source Selection methods" outlined in FAR. Is price more important than technical proposal accuracy? This is crucial information to consider when responding to a solicitation.
Preparation is key when navigating the process of registering, finding, and winning federal projects. By following the steps outlined above, you can position your business to have the best chance for success.