Webinar: 10 Things to Know About OSHA 10

In this webinar, Rolando Cedillo, ClickSafety's Director of Compliance and David Wald, Aclaimant CEO, discuss the role OSHA 10 training plays in your overall safety and risk management plans. They will help you stay up to date on safety training requirements, trends, and the evolving expectations of employees to help you nurture a culture of safety throughout your organization.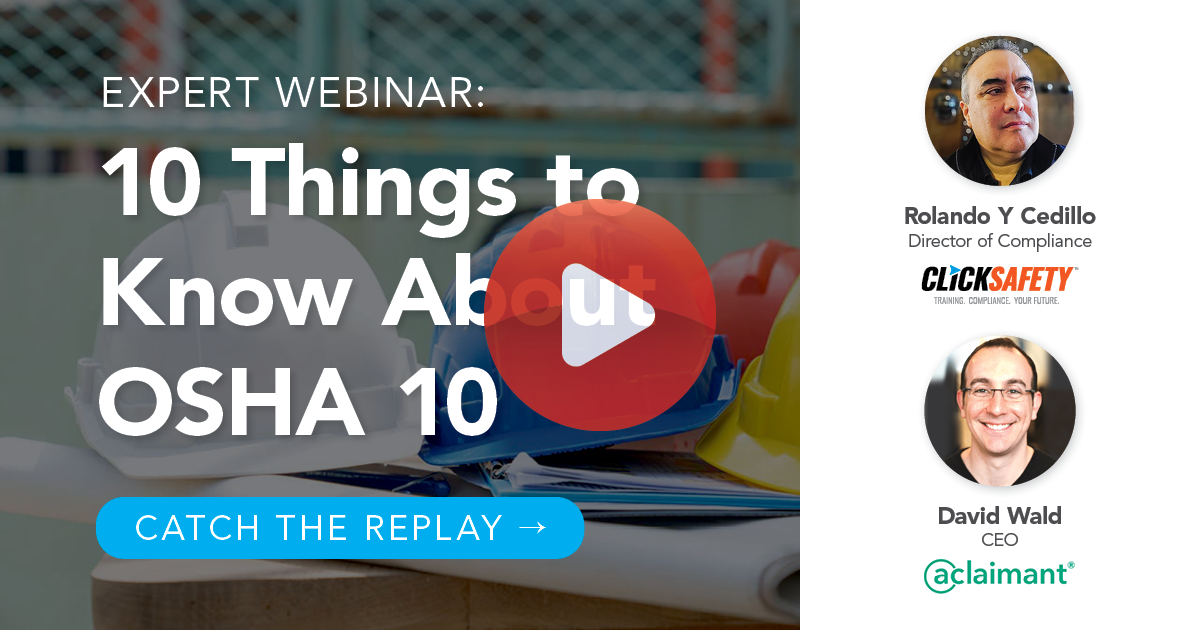 Catch the full replay on Youtube.
Featured Speaker:
Rolando Y Cedillo
Consultant (MSE, EMT, CSP) for ClickSafety
Rolando's thirty-plus years of EHS&W experience in sub-orbital aerospace, heavy civil construction, consulting, manufacturing, oil and gas and petrochemical areas from in the field to C suite. Rolando has worked closely with industry and regulators to ensure programs meet regulatory requirements for environmental, safety, and health compliance. Rolando has also worked on numerous OSHA Voluntary Protection Program (VPP) Sites incorporating the best practices into the field.
Moderator:
David Wald
CEO and Co-founder for Aclaimant
David has experience with being a CEO for a start-up on both sides of the venture world. He started his career in venture as part of the deal team at Lightbank, and as an early employee, operator, and Director at the Lightbank and TCV backed dough.com. David launched Aclaimant in 2013 with two other co-founders in order to innovate technology in risk and safety management. In 2021 David won Business Insurance's Breakout Award.
Find the right OSHA 10 training for you and your team from our comprehensive course offerings.
Learn more about ClickSafety's business accounts, a complete solution to help mitigate risk, improve productivity, and reduce training costs.