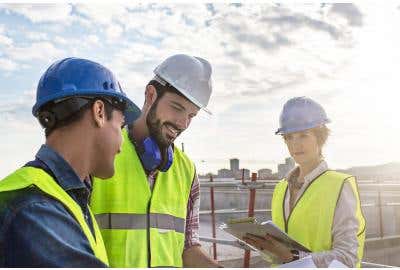 How to Choose OSHA 10- or 30-Hour Courses

Whether you're new to the construction industry or ready to take on new safety responsibilities, OSHA 10/30 courses provide comprehensive training to keep you and your coworkers safe. Based on the OSHA Outreach Training Program, these courses address occupational health and safety, as well as the rights of every worker to a safe work environment. Which ClickSafety OSHA 10/30 course is right for you? We'll explain how to choose the best options for your training needs.
The OSHA Outreach Training Program
Founded in 1971, the OSHA Outreach Training program is a voluntary program, created to promote the importance of safety culture and educate workers on their fundamental rights. The program has trained millions of workers since, including nearly 4.5 million between 2014 and 2018 alone. General topics within OSHA 10 and 30 training courses include:
How to recognize hazards

Hazard avoidance and resolution

Workers' rights

Employers' responsibilities for workforce safety

How to file a complaint

The value of health and safety on the job
The program includes training at beginner and more advanced levels to accommodate workers at different stages in their careers. It's important to note, however, that OSHA 10- and 30-hour training courses do not fulfill standard-specific training requirements, which are regulated by OSHA compliance requirements. To learn more about requirements for job-hazard-specific training, please review OSHA Publication 2254, Training Requirements in OSHA Standards and Training Guidelines.
Who Should Take 10-Hour OSHA Training Courses?
OSHA 10-hour courses provide basic occupational health and safety training that helps entry-level employees identify common workplace hazards and avoid them. Additionally, workers will learn more about the controls that minimize or eliminate these hazards. Course participants will study personal protective equipment (PPE), employer health and safety program requirements, and the roles of workers and management in safety culture.
Who Should Take 30-Hour OSHA Training Courses?
Employees who are responsible for any aspect of job site safety should take an OSHA 30-hour course. These courses are appropriate for supervisors, foremen, managers, and crew leaders, as well as safety directors who oversee workplace safety programs. Many of the same topics addressed by 10-hour courses are revisited in 30-hour programs, including hazard avoidance, recognition, abatement, and prevention. One major difference, however, is the depth and scope of training provided.
OSHA 30-hour courses offer a more in-depth look at each topic and cover a wider variety of topics. This means that students come away prepared to be responsible for their own safety and take a leadership role in workplace safety.
Course Variations
OSHA Outreach training may also be tailored to specific industries. The core topics in each course remain consistent, while extra emphasis is placed on industry-specific hazards and concepts. This might include a focus on mobile equipment for road construction workers or additional instruction on OSHA's Focus Four hazards for the construction industry. ClickSafety offers several industry-specific OSHA 10/30 courses, including:
Courses are also available to meet CAL/OSHA standards and to accommodate Spanish-speaking workers. Additionally, voice-authenticated courses are available for students working in New York City per the NYCDOB's LL196 online course proctoring requirements. These include:
Get OSHA 10/30 Training Today
Staying safe on the job requires comprehensive training that explains common hazards and helps workers know what to do when they encounter those hazards. To learn more about online safety training from ClickSafety, browse our available courses and safety packs today. Our team is standing by to answer your questions and help you choose the right training for your needs – simply contact us online or call 800-971-1080 for more information.