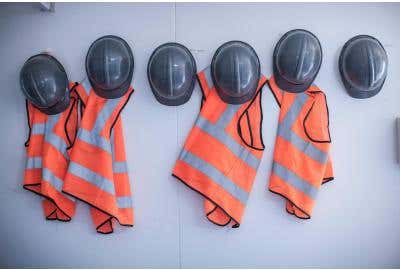 Safety First!

Sound & Communications Technical Council member Douglas Kleeger, CTS-D, DMC-E/S, XTP-E, KCD, shares his insights gained from his more than 35 years' experience in the AV industry in his monthly "What Would You Do?" column, as well as "It's Just Personal, NOT Business" and "Secrets To Success." His experience as a consultant, integrator, location sound mixer, recording engineer and business owner gives him unique perspective on the AV industry and how it affects our lives. The article below is republished with permission from Sound & Communications. For additional information, visit www.soundandcommunications.com.
Safety First!
Simply going to work in the morning presents everyday dangers we must be aware of.
For those who remember it, one of my most widely read pieces was about a training course I took on induction loop technology for assistive listening systems, provided by Williams Sound. I shared how worthwhile I thought the course was. And, if I may, I'd like to tell you about another.
I just took a training course from the Occupational Safety and Health Administration (OSHA), provided online by ClickSafety: the OSHA 10-Hour Construction Course. It took me about 15 hours to complete the course, which included about 14 section exams and a 40-question final exam to receive a certificate of completion.
As you might remember, and I'll say it again, the way I rate a course or day spent in training is simple: When I leave, can I say, "I always wanted to know that"? Can I say, "So that's how it's done!" or "I didn't know that"? If that doesn't happen, then how relevant was the training course for your personal growth?
The OSHA course I took was an eye opener for me, on many different levels. First, and foremost, I had no idea of the actual statistics of worker injuries and fatalities on construction sites. Every day, many of us are on site, performing tasks, using tools and working with, and around, others. And, frankly, in some cases, we're putting our safety in jeopardy by not knowing and understanding the details and issues that this course presents.
Did you know that, every day in this country, 13 individuals leave in the morning for work and don't come home to their families and loved ones? Every day! Virtually all of those fatalities can be prevented; that's the saddest part. And I'm not even going to mention how many suffer various injuries!
Most fatalities and injuries are part of what is called the "Focus Four Hazards." They are as follows: fall hazards, electrocution hazards, caught in or between hazards, and struck-by hazards. I'm not going to go into detail here as to descriptions and statistics; that's for you to learn when taking the course.
What I will tell you is how worthwhile it was. What I enjoyed most about the course was the down-to-earth language used, as well as how it was presented—logically, in an order that made sense. I couldn't even begin to mention all that I learned to keep myself aware and safe the next time I'm walking a construction site. You wouldn't believe how many areas of concern there are when just walking around!
One of the other areas the course focuses on is employer responsibility. Most of us are employed by others, and our job description includes going out into the field. That can include going from an office building under construction to one already built; going up on a ladder; looking into the ceiling; using a drill; and more. It is the responsibility of the employer to train his or her employees on the proper use of tools, as well as to train them on what to be aware of, so they don't put themselves in harm's way.
I have been here in Atlanta GA for many years, and I've worked in the employ of integrators and consulting firms, which I will not name. But never, until I started to work for AVI-SPL, did I encounter this course—and it was mandatory to continue to work there. Mandatory! So, kudos to AVI-SPL for looking out for me.
Looking back, I've spent many a day on construction sites, surrounded by many dangers that I really didn't consider; frankly, I'm fortunate to be in one piece! Not one of the companies I worked for had this course as a requirement. I couldn't help but wonder, "Why not?" Likely, there are many reasons, but, to be honest, they don't make sense to me.
ROI Of Safety Training
I spoke with Tom Cermak, Marketing Manager, ClickSafety, to let him know how much I enjoyed the class. He shared the following: "The ROI of safety training has been proven time and time again. It comes down to one thing and one thing only: the investment in safety training versus the cost of an injury in the workplace. Training individuals with industry-specific safety courses helps those who are trained go home safe to their families at night. That's the most important thing, but it also benefits organizations, increasing productivity and reducing downtime by reducing workplace injuries. Any reader who wants to learn more on how ClickSafety can help can reach us at 800.971.1080 or email us at [email protected]"
I'm going to go out on a limb here and make a statement: Everyone who's reading this, go to your manager or your supervisor—or, if you're the boss, look in the mirror—and say you want to take this course so you can gain a full understanding of the many dangers we face every day! Given what it costs to get someone up to speed in your organization—and, more importantly, on the personal level—it just doesn't make sense for employers not to provide such training. No one leaves home in the morning expecting not to return. So, let's all do our part and be safe! Remember, you are responsible for your safety!